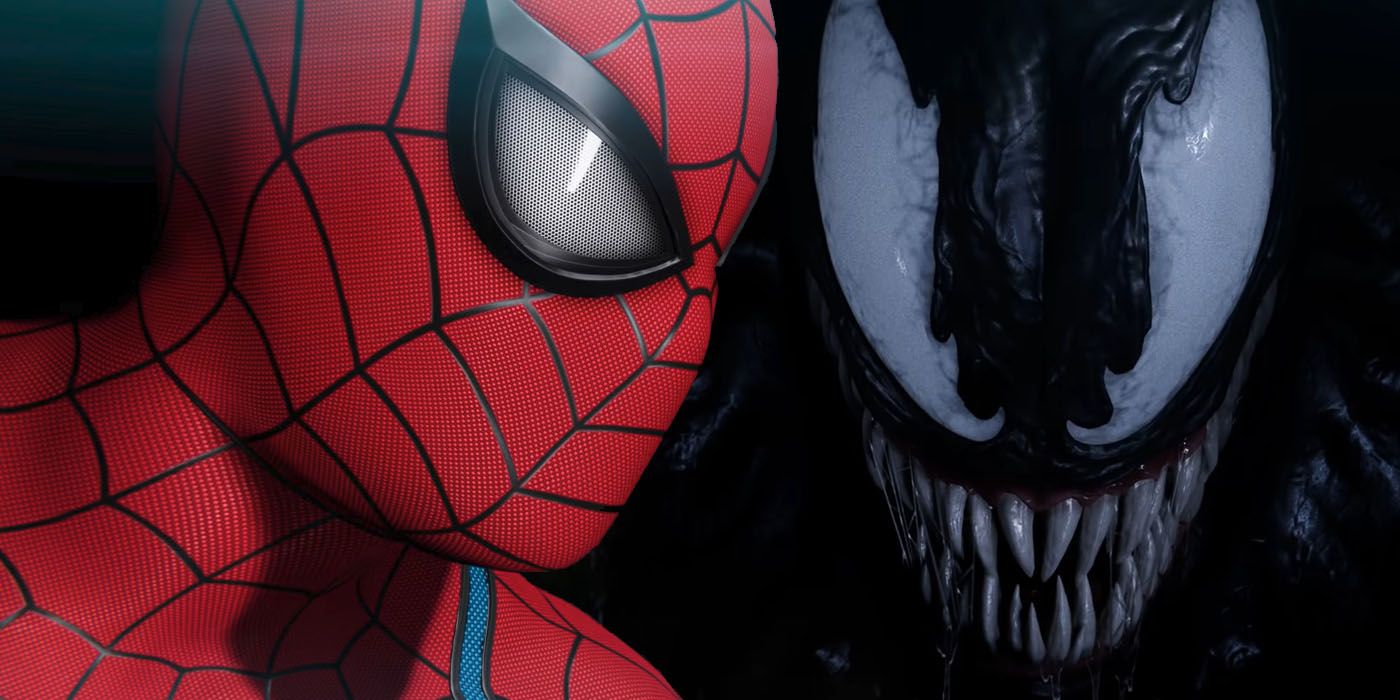 With Venom confirmed to appear in Marvel's Spider-Man 2, one fan is sharing their own ideas for how the inevitable boss battle with him could play out. The longtime foe of Peter Parker and his heroic alter-ego wowed viewers when he emerged from the shadows during the Marvel's Spider-Man 2 trailer at last month's PlayStation Showcase livestream, menacing Peter and Miles Morales after they had finished taking down their latest batch of criminals in an impressive display of the PS5's graphical capabilities.
Whether it's the traditional Eddie Brock or Peter's best friend-turned-tragic enemy Harry Osborn (as the end credits scenes from Insomniac's previous two Spider-Man titles seem to indicate) within the monstrous black Symbiote that grants Venom his power, the popular villain has always been one of Spider-Man's most dangerous foes – thanks in no small part to the fact that the Symbiote was previously bonded to Peter before being rejected by the hero. This past relationship gave the Symbiote all of Peter's memories, making it all too easy for Venom to torment the web-slinger by targeting his friends and loved ones. Even worse, it rendered the Symbiote completely immune to Spidey's trademark, danger-detecting Spider-Sense, allowing Venom to ambush Peter at any time and making his attacks difficult for the hero to predict and defend himself against. The character is set to be just as intimidating in the new game, especially because the legendary Tony Todd is set to voice Venom.
According to Game Rant, Reddit user PineappleTargaryen recently pointed out that Spider-Man's inability to detect Venom with his Spider-Sense could make for an interesting and challenging encounter if and when players have to battle the Symbiote-infected villain during Marvel's Spider-Man 2. In a post on r/SpidermanPS4, PineappleTargaryen suggests that during the boss fight against Venom, Spidey's Spider-Sense ability simply shouldn't go off at all, requiring Peter (and by extension, the player) to pay extra close attention to Venom's attacks if he wishes to survive.
However, there's one potential story obstacle to Insomniac implementing this in Marvel's Spider-Man 2: unlike in the mainstream Marvel continuity, Insomniac's version of the Symbiote doesn't appear to be an alien but rather a scientific creation of Norman Osborn and Dr. Curtis Connors – not unlike how it was portrayed in the Ultimate Spider-Man comics. Furthermore, the post-credits scenes for Marvel's Spider-Man and Spider-Man: Miles Morales seem to depict the Symbiote bonding to Harry right away, without spending time as Peter's famous Black Suit beforehand.
Of course, Insomniac could come up with some sort of alternative story-based reason why Peter can't detect Venom with his Spider-Sense: perhaps the Symbiote was somehow created with Spider-Man's blood/DNA, or the creature temporarily leaves Harry to infest Peter at some point during Marvel's Spider-Man 2. In any case, having Spidey unable to sense Venom's moves as he does with virtually all of his other enemies would make for a challenging boss battle when Marvel's Spider-Man 2 swings onto the PlayStation 5 in 2023.
Next: Wolverine Could Move Marvel Games Out of Batman Arkham's Shadow
Source: Game Rant, PineappleTargaryen/Reddit
from ScreenRant – Feed https://ift.tt/3uCfvlx https://ift.tt/3uAhU06
Source:
Marvel's Spider-Man 2 Venom Fight Receives Clever Twist Idea From Fan